Then one day Angie got tired of finding her clothes in Mayhem's toy box and suggested they make a dress out of paper. Having a 4-year-old daughter of my own, whose biggest fashion moment was putting a red bow around the waist of her green Super Soccer Stars t-shirt and calling herself "Peter Pan," I had a few questions for Angie.
Sometimes I'll Google images the day after award shows, so she can see the dresses worn on the red carpet and pick which ones she wants to make. We also leave a tab open on our iPad with a search for "project runway dresses" so that we can quickly reference those as well.
Think about someone who changed the arc of your professional career with advice – why was it such great advice? Think about someone who TRIED to help you but their advice fell flat.  What happened there? This will help take the ambiguity and randomness out of most of your conversations and you'll both get more value from the mentoring relationship.
Back then she was posting the typical stuff you see from moms on Instagram -- pics of her daughter at the park, pics of her daughter eating breakfast and lots of photos of her daughter playing dress-up. It became clear Angie's daughter (she calls her "Mayhem") was more interested in fashion than the average 4-year-old.
That's one of the best things about this project, I see her learning new skills every single day. We use a lot of construction paper, but we also use tissue paper, wrapping paper, and gift bags. She's never actually seen an episode of Project Runway, but I did show her a clip one time explaining that there is a show all about making dresses and I thought she might hyperventilate.
Mayhem shunned her store-bought princess dresses and started wrapping herself with scarves and sheets creating her own styles. At this point, she knows exactly how many sheets of construction paper she needs to make herself a top and a bottom.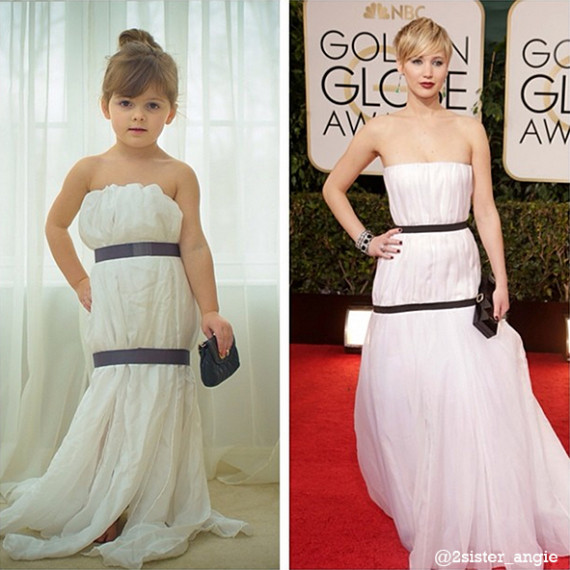 And no one is more surprised than I am, that she still wants to make them nearly 9 months later. I have no idea if it will continue, but as long as she wants to make them, we'll keep doing it. Definitely, the more complex designs have more of my time invested, but she's literally always beside me learning something new if she's not tearing or taping or gluing while I am. And the most ironic part of this whole project is that I am literally the least fashionable person you will ever meet.
A friend suggested I could start sewing these creations from scraps of fabric and I laughed at her.