Through the infographic we find that 75 percent of teens own cell phones, 33 percent text more than 100 messages per day, and 11 percent send more than 200 texts per day. 23 percent of teenagers use social networks on their phone, while 63 percent have no mobile access to internet. Very interesting stuff, I knew cell phone usage was very prominent but the study showing 100 text sent a day blew me away. We all know that Generation Y uses technology to connect with the world around them in more diverse ways and in greater numbers than any other age group.
The vast majority of undergrads possessed a laptop and an iPod or MP3 player, too, at 88% and 84%, respectively. Adults younger than age 30 are more likely than those age 30 and older to own a cell phone—93% of young adults own cell phones compared with 80% of their older counterparts. 80% of teens between the ages of 12 and 17 have a game console like a Wii, an Xbox or a PlayStation.
Over one-quarter of students listed their laptop as the most important item in their bag—almost three times the number of students who chose textbooks. Among student tablet owners, 86% believe tablets help them study more efficiently, and 76% said tablets help students perform better in class. 21% of teens who do not otherwise go online say they access the internet on their cell phone.
Only 5% plan on buying a PC, 1% use Gowalla, 12% use foursquare, and only 13% of incoming freshmen plan on getting a cable TV package.
38% of students surveyed said they could not go more than 10 minutes without checking their digital device—about the time it takes to walk to class.
Among all teens, the frequency of use of texting has now overtaken the frequency of every other common form of interaction with their friends. Half of teens send 50 or more text messages a day, or 1,500 texts a month, and one in three send more than 100 texts a day, or more than 3,000 texts a month. 15% of teens who are texters send more than 200 texts a day, or more than 6,000 texts a month.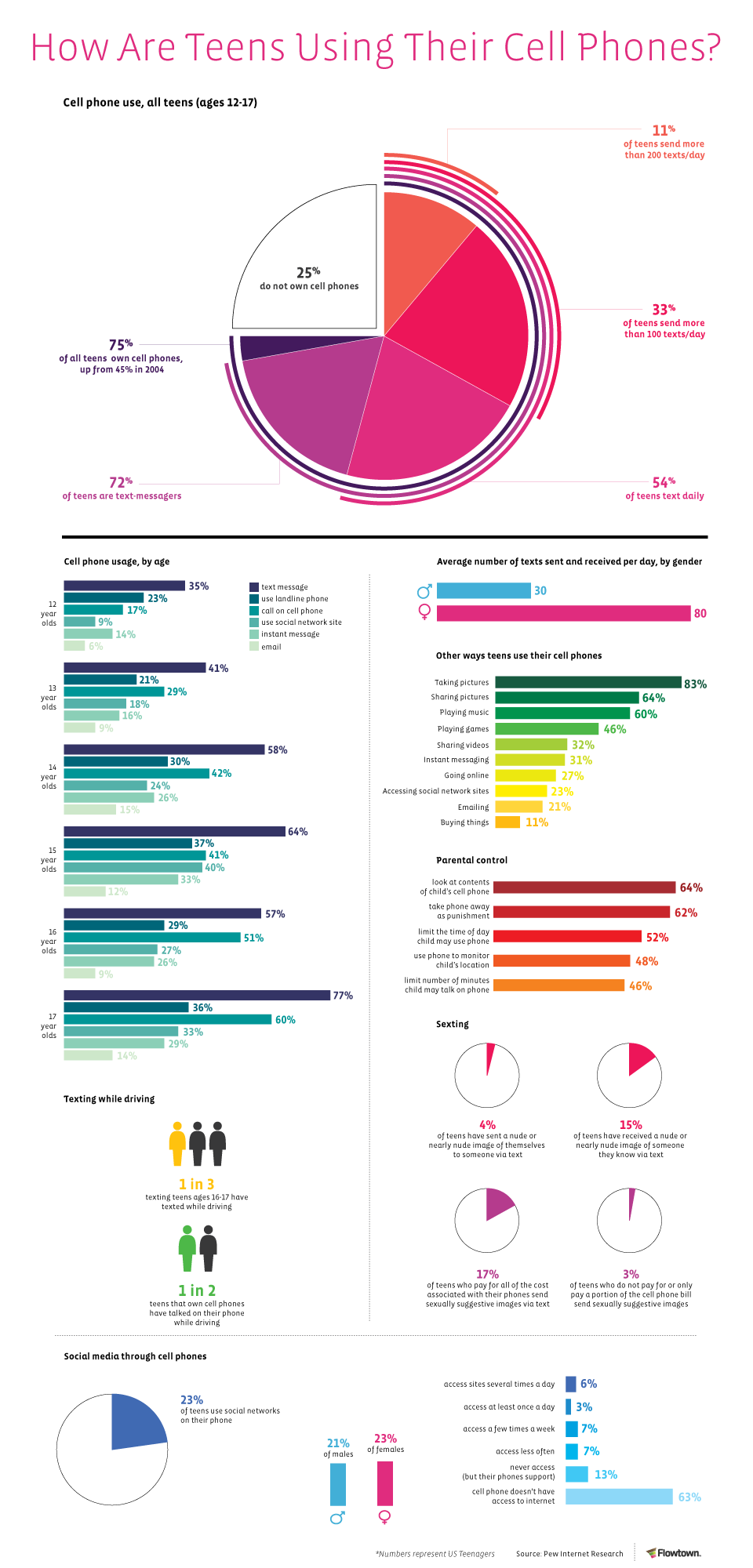 Boys typically send and receive 30 texts a day; girls typically send and receive 80 messages per day. While they are more likely to share photos of themselves (84%), their sexual orientation (69%), and relationship status (78%), they are still very unlikely to make their physical location, what products they have purchased, or their mailing address public. Over the last few weeks several friends and family members have been invited to upgrade their mobile phones. Now I'm sure some will continue to use their phones to simply phone and text but some will be tempted to broaden their mobile horizons. A fortnight ago, I was at the Technology for Marketing & Advertising exhibition and attended one of the keynote speaker events.
In January ForeSee, the leading customer experience analytics firm, presented their latest mobile shopping research results. It details teenage cell phone use and reveals some interesting statistics on texting while driving, social media, average number of texts, how many teens own a cell phone, parental control, and more.
We also find out that girls on average send and receive 80 text messages a day, while boys only send and receive 30. Of the teens who do use mobile social networks, male and female use are almost identical, but the numbers favor females slightly.
Having a daughter, I'm not surprised that girls text at almost three times the rate that boys do. I also believe that social media usage will become a much larger metric within the next couple years.
41% of teens from households earning less than $30,000 annually say they go online with their cell phone.
Fully two-thirds of teen texters say they are more likely to use their cell phones to text their friends than talk to them to them by cell phone. She is a part of Intel's Social Media Center of Excellence and is responsible for company-wide social media enablement and corporate social networking strategy. Affiliate Window and vouchercloud presented the latest trends in Performance Marketing on the mobile platform.
The reality is that each year has seen an increasing need to consider user's experience of your brand from a mobile device. 49% of people surveyed had accessed a retail website from their mobile phone, compared to 32% in 2012 and 23% in 2009.
I use my cellphone to check twitter and facebook all throughout the day, social media will become a driving force of overall cell phone use. The following statistics, taken from four recent reports listed below, provide an insight into the complex world of 13-24 year-olds. Only 70% of teens in this income category have a computer in the home, compared with 92% of families from households that earn more. She was recently elected to serve on the Board of Directors of Word of Mouth Marketing Association (WOMMA). Latest industry stats confirm 1 in 5 people now own a smartphone compared to 1 in 10 last year. Affiliate Window currently have over 1,600 companies who sell through their Affiliate network yet only a handful currently have tracking in place to sell via mobile devices. A further 28% indicated they plan to use their mobile visit a retailer website, mobile website or mobile app in future.
Also surprised that the media usage was so close in numbers in comparison to text messaging. More than 75% of online shoppers researched as part of the study are already using, or plan to use, their mobile phones to visit retailer websites.