A remarkable team of expert authors provides firsthand accounts from disaster survivors around the globe, enabling readers to understand the lingering trauma and mental wounds that might otherwise go unrecognized, yet last a lifetime. Gilbert Reyes is Associate Dean for Clinical Training at Fielding Graduate University in Santa Barbara.
The Finnish representative Salli Saari Ph.D, is working as clinical psychologist in Student Health Service in Helsinki. Nowadays she is concentrated only in acute crisis among students, such as suicides of parents, friends, boy- or girlfriends, different kind of accidents, violence, for example rape or former traumatic experiences like sexual abuse in childhood, bulling, violence among parents etc. She has been 11 years president of Finnish Psychological Association and four years a member of EFPA Executive Council. She is chair-person of the Austrian Association of EMDR since 2004, member of the EMDR Europe Board and an EMDR Europe approved EMDR trainer.
The British representative retired in October 2005 after 36 years continuous work at the Institute of Psychiatry where he was Professor of Applied Child Psychology and Consultant Clinical Psychologist to the Bethlem and Maudsley Hospital.
He has been Chair of the Association for Child Psychology and Psychiatry, a founder member of the Society for the Study of Behavioural Phenotypes, and is currently Chair of the Foundation for Children and War. He was an advisor to UNICEF in Bosnia, and the manuals written with the Foundation for Children and War have been used in many war and disaster affected countries in recent years. These are the men, women, and children who the new field of disaster psychology seeks to heal. He has been called to assist people trying to recover mental health after disasters, including the September 11, 2001, attack on the World Trade Center, the bombing of the U.S.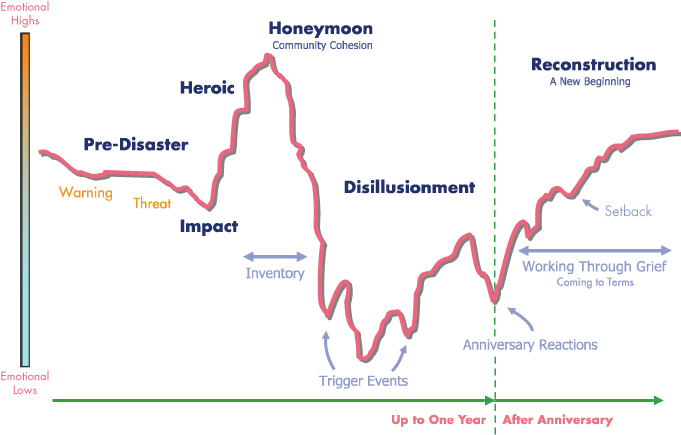 She has worked among university students and taking care of their preventive mental health more than 30 years. She is teaching disaster, crisis and trauma psychology in universities for students of psychology and leading also the postgraduate training in this field for psychologists.
Eva Muenker-Kramer is clinical psychologist, organizational psychologist, psychotherapist (BT, EMDR, traumatherapy), disaster and emergency psychologist. She was co-founder and headed the Austrian Association of Disaster and Emergency Psychology (2000-2003) and was in the executive committee of the Professional Association of Austrian Psychologists (1993-2001).
He was a member of the Guideline Development Group for the UK National Institute for Clinical Excellence's Guidelines for the treatment of PTSD.
They include survivors of torture, terrorism, genocide attempts, tornadoes, hurricanes, earthquakes, tsunami, and other manmade or natural disasters.
She gives a lot of training in the field in hospitals and in public health care organisations. She has written a book on disaster, crisis and trauma psychology, published in Finnish 2000 and in English 2005. In 2005, he was awarded the Lifetime Achievement Award of the International Society for Traumatic Stress Studies for his work with PTSD in Children.
This set of books is the most comprehensive available resource explaining the practices and principles that have been employed, and are being employed, to heal them. He has been a consultant to the International Federation of Red Cross and Red Crescent Societies and, in 2002, co-authored that organization's training manual for community-based psychological support.
She also works as supervisor for many local crisis teams and different organisations working in the field of disaster and crisis psychology.
The stories in these pages will prove instructive and inspirational to all concerned with promoting the psychological welfare of people who have endured horrific events triggered by the violence and upheaval of mankind or nature at their worst. She is still leading the special team of crisis psychologists in Finnish Red Cross for large disasters and she has in this role organised psychosocial support and services in all more than 20 major disaster which have happened in Finland since 1993, when this team was grounded. Contributors to this set include professors from Columbia, Harvard and Johns Hopkins universities, as well as the International Federation of the Red Cross and Red Crescent Societies, and the World Health Organization.
Jacobs is Director of the Disaster Mental Health Institute and a Professor of Psychology at the University of South Dakota. He is active in field work, training, program development and consultation nationally and internationally for the Red Cross and the American Psychological Association.
A consultant to the World Health Organization from 1999 to 2002, he has worked at disaster sites as varied as the bombing of the U.S. Jacobs served on the Institute of Medicine Committee on Responding to the Psychological Consequences of Terrorism. He works with the Asian Disaster Preparedness Center in psychological support training and program development.
Rubric: How To Survive Emp