For years, travelers seeking serenity and spiritual renewal have made their way to India's ashrams and retreat centers to learn the wisdom of ancient practices like yoga, meditation and Ayurveda healing. From by-donation yoga programs at a southern India center to luxury wellness retreats at an upscale Himalayas destination spa, these 10 retreat centers accommodate every budget and level of interest, from the yoga-curious to experienced meditation practitioners.
The Art of Living International Center, a 65-acre campus located on top of the Panchagiri Hills outside Bangalore, is a popular destination for peace-seekers from abroad heading to India for the ashram experience. To see our content at its best we recommend upgrading if you wish to continue using IE or using another browser such as Firefox, Safari or Google Chrome. The Good Retreat Guide by Stafford Whiteaker (Hay House, A?12.99) is an excellent guide to what is available. Adventure travel isn't always about riding waves and ascending heights -- sometimes it's about heading inside, to explore the realm of our inner worlds. While it might be counter-intuitive to travel long distances to sit with a bunch of silent strangers, meditation retreats offer guidance to those on an internal quest.
Rules vary, but many dedicated centers will ask for a temporary vow of silence during most or all of your time as a visitor.
A rule of thumb is to look for teachers with a good reputation and who come from a long tradition rather than a self-proclaimed guru. A traditional Buddhist meditation retreat starts early in the morning; nonprofits will likely expect you to do a work period (cut those carrots mindfully) and to pick up after yourself. Those wanting to study with Gampo Abbey's principal teacher Ani Pema Chodron (born Deirdre Blomfield-Brown in New York) can do so this year at the less austere Omega Institute in New York State.
This imposing Buddha icon sits in the park-like gardens of the Buddhist Retreat Center enjoying his view of a protea, South Africa's national flower. The Buddhist Retreat Center, in rural KwaZulu-Natal, South Africa, has been ranked among the top 10 on CNN's "world's best meditation retreats" list. During a recent 10 days I spent there, one woman arrived by cab in the early evening having flown to South Africa from Canada via Germany specifically to spend five days at the BRC en route to participating in a volunteer project and safari in Tanzania. The weekend retreat in question, called "New Year intentions: starting where we are," run by Lucy Draper-Clarke and Kerri Martinaglia, both on the board of Mindfulness Africa, an organization founded by South African Buddhist teacher Rob Nairn, had a Tibetan Buddhist flavor and drew people from Cape Town, Johannesburg and around KwaZulu-Natal, which is not unusual. The BRC is, as far as I know, the only place you'll find in South Africa where you can you go for a long and lazy afternoon hike (or an energetic one!) along pristine walking paths, through indigenous forest and park-like gardens. This after a lunch of dreamily light shepherd's pie made with brown lentils, sweetly spicy caramelized baby onions, tenderly crisp roasted veggies and a sprout salad ablaze with orange nasturtiums, much of it picked fresh from a bountiful organic veggie garden.
Then you can go sit on a rock in a raked Zen Garden to contemplate your navel or life's mysteries before wandering through a creative bamboo labyrinth pondering the twists and turns of existence — only to end up feeling that twists and turns are, perhaps, quite simply what it's all about. And all of the above is before you consider the schedule of classes, perhaps yoga at the stupa or volunteering at Woza Moya, the center's community focused poverty alleviation, empowerment and HIV-Aids program. Perched on a ridge at the head of a valley in the Umkomaas river system, the Buddhist Retreat Center (a hop and a skip from the rural town of Ixopo — inspiration for Alan Paton's scene-setting opening to his long-acclaimed novel, Cry, the Beloved Country), is about an hour-and-a-half by road from Durban.
The BRC — which celebrates its 35th anniversary this year — invites teachers both local and international (Steven and Martine Bachelor, Kittisaro and Thanissara — who used to be resident teachers — and Joseph Goldstein have all taught there, among many other well known names).
It draws students and teachers from the various Buddhist schools — from Tibetan, with its elaborate and colorful rituals and visualization, to the stark simplicity and rigors of Zen and the more gentle and contemplative practice of Theravada or insight meditation.
It also attracts many non-Buddhists to courses that range from bird watching to sketching to t'ai chi ch'uan, chi kung and yoga.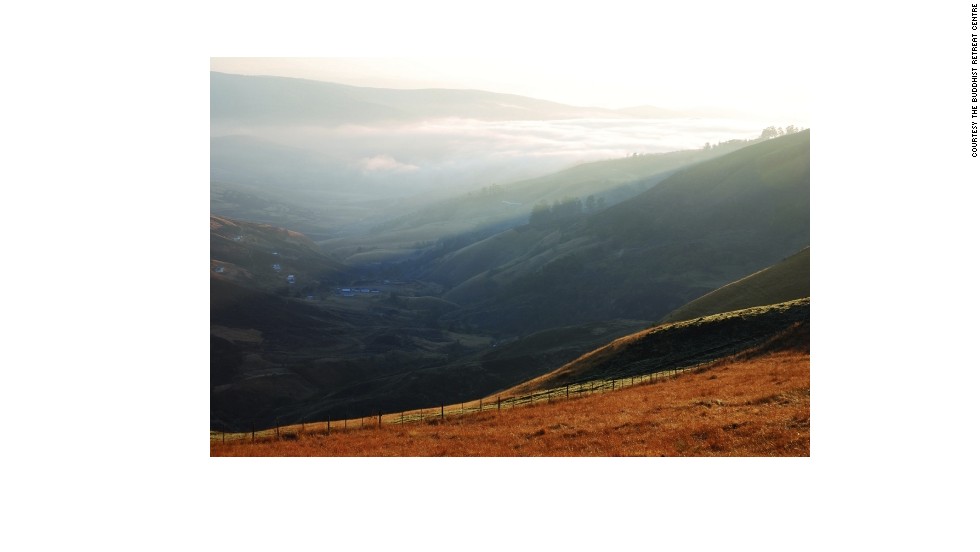 The first retreat was held in 1980 and over the years the BRC has become a place to go, meditate and learn about Buddhism for some — and a great escape for many. When I visited for the first time, more than 25 years ago, accommodation was in a single lodge. Now, in no small part thanks to the drive and enthusiasm of Dutch-born Louis's wife, Chrisi van Loon, it has earned custodian status for the habitat it supplies to the endangered Blue Swallow and it has National Heritage Site status. Louis van Loon will tell you if you ask him to share some of his wonderful stories that he got interested in Buddhism in the 1950s while on a trip to Asia.
He is currently adding a "Buddha boma," which includes eight newly planted trees, all of them significant in Buddhist teachings.
The BRC has come into its own as interest in meditation and "mindfulness practice" has grown worldwide.
Meditation is now being widely studied and is seen as a mainstream antidote to stress, depression and many other modern-day ills. The BRC's park-like gardens are an Impressionist's dream when splashed with the biggest and brightest pink and red azalea "trees" you're likely to have seen.
Accommodations at the BRC range from, left to right on the hill, a comfy lodge with single and double rooms and shared ablutions to the Quartet — four en-suite single rooms — to the chalets (see the next picture) and other options.
Accommodation options include three simple but designer-cool luxury chalets, en suite and two-bedded, with imposing views. Longtime BRC cooks Lindiwe Ngcobo and Dudu Memela with former kitchen chief, Daniel Jardim, who was very involved in the BRC's second cookbook, The Cake the Buddha Ate, and who runs occasional workshops.
A sprout salad ablaze with orange nasturtiums, much of the produce picked fresh from the BRC's bountiful organic veggie garden.
The circular thatched library across from the meditation hall is a great spot to sit and browse from among the vast selection of Buddhist books that range from popular to more academic.
BRC founder and chief teacher, Louis van Loon, with his wife, Chrisi van Loon, equally involved with BRC matters, at the launch of the BRC's second cookbook, The Cake the Buddha Ate. Entrance to the meditation hall at the Buddhist Retreat Center near Ixopo in rural KwaZulu-Natal, South Africa.
View from the outside of the meditation hall at the Buddhist Retreat Center in rural KwaZulu-Natal, South Africa. You can wander through a creative bamboo labyrinth pondering the twists and turns of existence — only to end up feeling that twists and turns are, perhaps, quite simply what it's all about.
A recent group of retreatants take a mindful afternoon walk to one of the many viewspots at the The Buddhist Retreat Center in rural KwaZulu-Natal, South Africa. Splashes of orange clivia and luxuriously abundant assorted protea are some of the flowers waiting to delight, depending on the season.
Whether you're looking for a disciplined daily meditation routine at a spiritual center or a luxury spa with a focus on wellness and healing, the country's many retreat centers all promise visitors stress reduction, self-discovery and an escape from a busy urban lifestyle.
With mountainside trails, gardens, a lake and organic farms surrounding the facility, it's the perfect place to get some peace and quiet.
Non-denominational Buddhist centre that promotes wellbeing and sustainable living on community, guided or solitary retreats. Catholic retreat offering private meditation and a spirituality programme; lovely surroundings, with novel ideas such as the Eucharist being taken outdoors.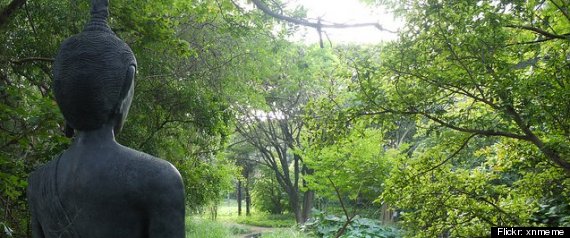 Austere conditions may prompt insight into the difference between what you want and want you need.
Residents typically make at least a yearlong commitment, but those with a regular meditation practice are welcome to come for a week during the summer in-house season. And while it might seem a little off the beaten track, it attracts people from around the world. Her plan was to unwind, walk, meditate and to experience this place she'd read about online.
They're an Impressionist's dream when splashed with the biggest and brightest pink and red azalea "trees" you're likely to have seen, plus patches of orange clivia and luxuriously abundant assorted protea.
Their two recipe books (a third is in the pipeline), Quiet Food and The Cake the Buddha Ate, are both best-sellers, beautiful, and the inspiration for all the meals. It looks out on a vista of indigenous valleys, forests and rolling hills that recede like waves in the blue distance.
Now there are a number of options, including three simple but designer-cool luxury chalets. Alien trees and plants have been taken out and replaced with indigenous groves and forests. He had the idea to create a retreat center in South Africa while ill in SriLanka on another (seven-month) pilgrimage around Asia in the 1960s. The idea is that one will be able to do a kind of Indian Buddhist pilgrimage at the BRC in South Africa. Many US and UK universities are doing research and finding all manner of physical, psychological and emotional benefits.
Her South African journalism background includes 7 years on the Sunday Tribune and 5 years on Cosmopolitan magazine. Everything one might need for comfort and a quiet meditative space with none of the noisy extras.
Here long-time BRC cook, Dudu Memela, plucks fresh fare from the garden for the day's lunch menu. The BRC has a wonderfully well stocked library with a good selection of books covering the different Buddhist persuasions. Guests (who come from all cultures and religious backgrounds) are invited to participate in voluntary service, helping with cooking, cleaning and general upkeep of the ashram. A young German woman and her Australian boyfriend, on their Africa adventure, had heard about it from friends.
Just like at Green Gulch, the San Francisco Zen Center's Japanese Soto Zen practice center in Marin County acclaimed for its organic farm and garden, "no anonymous food" is the norm. Ideal for a private retreat, this Franciscan monastery can offer solitude and spiritual direction if required.
08.04.2016 at 19:33:37
Azam writes:
Strolling meditation during which you concentrate on one about vipassana I give an example, 'Keep in mind, typically you.
08.04.2016 at 19:45:27
GTA_BAKI writes:
Practiced earlier, but broadens the follow onward, serving to domesticate emotional.