Devido a questoes relacionadas com o licenciamento a amostra de audio so esta disponivel em territorio portugues.
Se ja se registou e tem a aplicacao MEO Music instalada no seu equipamento, pode abrir este link diretamente na aplicacao.
The remarkable thing about this important work of John Mayer's is that, though commissioned in 1976, it lay languishing in the vaults for three decades. It ends an album in which inter-relatedness and variety ensure a rewarding listening experience. Dhammapada is a John Mayer work that was commissioned by EMI in 1976 but remained unreleased for 30 years.
He also makes use of Japanese and Chinese scales in addition to his Indian classical influences.
There are no lengthy solos to speak of; the playing is concise and extremely focused but everyone gets a turn. From the Oxford World Classics series, this translation includes an introduction and explanatory notes. Dhammapada (Oxford World's Classics) - Kindle edition by John Ross Carter, Mahinda Palihawadana, John Ross Carter. The Dhammapada, the Pali version of one of the most popular texts of the Buddhist canon, ranks among the classics of the world's great religious literature.
Buy, download and read Dhammapada (eBook) by John Ross Carter; Mahinda Palihawadana today!
It was only with this Vocalion release in 2006 that one could hear how Mayer's vision tallied with the auditory results.
Unusually this was not an Indo-Jazz concept but one predicated on the development of Buddhism `from India through to China, Korea and Japan', as Jonathan Mayer makes clear in his elucidatory booklet notes. Around the three minute mark an infectious ostinato is set up that sweeps us to the end of the movement - these rolling ostinati are a compelling feature of Mayer's writing.
The longer pieces are separated from each other by progressively more elaborate arrangements of the same theme inspired by "Rag Kafi," "Sannyasin." Starting with just glockenspiel and crotales (basically bells), sax is added, then galloping bass and percussion.
Longish movements alternate with brief ones, creating a sense of return and bringing narrative development to the project.
In addition to drums and tabla, he utilizes a trio of percussionists who play everything from glockenspiel to marimba to temple bells. The seemingly odd instrumentation works surprisingly well together as an ensemble, and Mayer's enormous talents as both composer and arranger really come to the fore. These pieces keep the album tied together nicely thematically, and also highlight Mayer's arranging skills. The opening is by far the longest part of the work, and it coalesces textures that are to come, presenting them through bell chimes, and a fluid associative interplay of ideas and tonalities.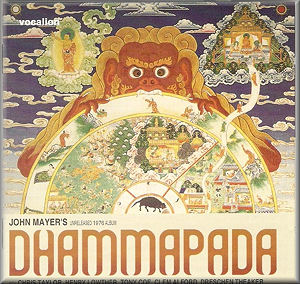 The recording itself is also excellent — crisp and clear, taking full advantage of the stereo spectrum so each instrument is clearly identifiable with no muddiness in the mix (no easy task with a 13-piece ensemble). Dhammapada, or 'sayings of the dhamma', is taken to be a collection of the utterances of the Buddha himself.
The Chinese and Japanese elements are explored before a more straight-ahead jazz component emerges via Henry Lowther's commanding trumpet playing and Tony Coe's urgent solo, all the while riding above rolling flurries and eddies from the percussion. Mayer's use of polyrhythms and counterpoint is fantastic and the band's ability to transition from chamber ensemble precision to jazz-rock vamping is incredible. Taken together, the verses form a key body of teaching within Buddhism, a guiding voice along the struggle-laden path towards true enlightenment, or Nirvana. The colouristic patterns add textural variety, the ensemble allowing, for instance, flautist Chris Taylor to unravel a busy solo over propulsive bass and colouristic support.
It's a brilliant, groundbreaking work that sounds fresh even after languishing for three decades. However, the appealof these epithets of wisdom extends beyond its religious heritage to a general and universal spirituality.